Make A Homemade Bong In Minutes. Making A Bong Is Easy! Learn How To Build A Gravity Bong
You can make a homemade bong out of a variety of materials. Making a bong is easy once you have the needed tools. In this page we will show you how to make a gravity bong.
WHAT IS A GRAVITY BONG?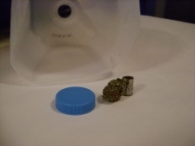 A gravity bong is an easy to make homemade bong. Gravities rely on the reverse suction of air through a plastic bottle submerged in a bucket filled with water. Gravity bongs aren't quite like a traditional bong. Gravities use the water to create suction when pulling up the fresh bottle of smoke. A traditional bong uses the water as a filter.
NOTE:
Gravity bongs produce hits that are very, very potent. This smoking method is only
recommended for seasoned smokers.

An Easy Homemade Bong (Gravity Bong)
Gravity bong materials:
1. 1 Empty gallon milk jug or two liter soda bottle.
2. A bowl piece from bong, or small metal socket or socket wrench.
We wouldn't recommend using other materials for the bowl piece.
However, if you think that your parts to make a bong in alternative are harmless, meaning it will not melt, and does not produce harmful toxins, then proceed with good judgement.
3. Bucket, scissors, or knife, screwdriver, lighter, some nugs to smoke.
Making a gravity bong Steps: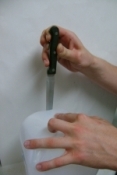 1.  Gather needed materials, and prepare for a super intense rip.
2.  Completely remove the bottom of your bottle with scissors or a knife.
In this case we used a knife. Be careful not to cut the bottle too short. Cut only the bottom off.
3. Heat up the tip of the screwdriver until considerably hot and push through the cap of your bottle.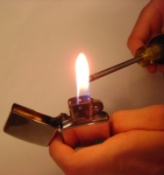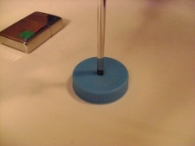 4. Now
quickly and
CAREFULLY
heat that small hole with your lighter to soften it up. No more than a second or two should be fine, now slide your cap around your bowl piece, socket, or other piece to hold your weed in the combustion process of smoking.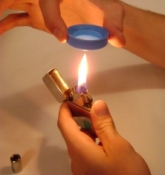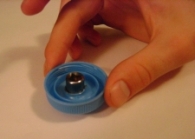 5. Pack
yourself some nug in that bowl piece, fill up your bucket with water, and submerge your bottle until the top is the only part out of the water.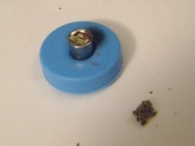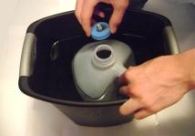 6. Cap the bottle off while it's submerged, then Light the flame above the bong and slowly begin to pull the
bottle up.
If you aren't getting any airflow through
the bowl, it may be
packed too tight. Next time, Repack your bowl a little looser.
7. Continue to burn your bowl until the nug is snapped through, or the bong is filled with smoke.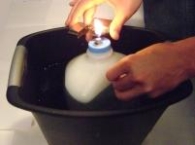 NEVER PULL YOUR GRAVITY BONG OUT OF THE WATER WHEN COMPLETELY FILLED WITH SMOKE!!!
Hold the bong steady, it is filled with smoke!
Keep the bottom of the bong submerged in the water, or you will lose all your smoke.
Take the cap off while still holding it steady, cover it with your mouth, and inhale as you suck the bong back into the bucket of water.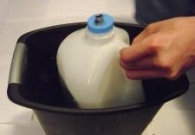 BEWARE!
THIS MAY BE THE FATTEST, DANKEST, MOST POTENT RIP YOU'VE EVER TAKEN!