The Bukket Bong
The only water-less gravity bong!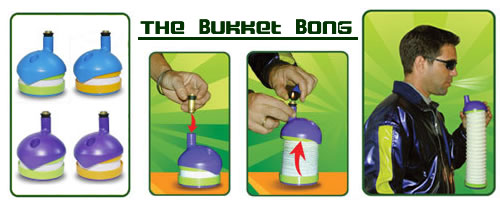 A easy to clean rippin' machine...
With the Bukket Bong you can take fat rips while conserving your weed.
The bukket bong simulates the experience of the original gravity bong without using water.
If you like to take potent rips without the hassle of a water puddle, then the Bukket Bong is right for you!
Bukket Bong Reviews.
These quotes are from the bukketshop website.
Review by paige
"It's a heavy hitting little gadget. Every time we use it, we're in tears! Awesome buy.."
Review by cam1
"this bong is killer! it gives really intense hits and you can get your party on real quick with this."
Let us know what you
think about the Bukket Bong
If you have any questions or thoughts about the Bukket Bong you can post it here on this page.